SAAHA Horse Show
November 28, 2020 @ 8:00 am

-

7:00 pm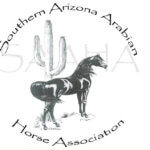 This event will be rescheduled at a future date.  Founded in 1966, the Southern Arizona Arabian Horse Association (SAAHA) is a non-profit organization established for the purpose of sponsoring and cultivating interest in the Arabian horse breed and participation in activities that will further that interest.   SAAHA has much to offer the community from competitive opportunities, to horse shows and competitive riding, to recreation trail rides as well social events and educational clinics.  SAAHA is an active group that loves our Arabian horses and enjoys spending time with other horse lovers.  Visit www.SAAHA.org for more information.
Per Pima County Face Covering Resolution face coverings and social distancing are required at all events happening at the Pima County Fair Grounds. Failure to abide by the rules set for Per Pima County Resolution 2020-49 with regards to face coverings and social distancing, while at events at the Pima County Fairgrounds, may result in being ejected from the property, regardless if a spectator, participant, volunteer etc.      Click here for more information:  SAAHA Events Know Before You Go
Some people are more likely that others to become severely ill such as older adults or people with medical conditions.  Additionally, there may be others who need to take extra precautions because of certain other factors that put you at higher risk.  For those people who are in these risk categories, the CDC recommends limiting contact with others, including avoiding large gatherings.  Click here for more information provided by the Centers for Disease Control: COVID19-What-You-Can-Do-High-Risk
Events are subject to immediate cancelation if any order or advisory by a federal, state, or local official would preclude the ability to conduct activities on Pima County property, such as orders and advisories intended to reduce the spread of the COVID-19 virus.