Tucson Dressage March Madness
March 13 @ 8:00 am

-

March 14 @ 5:00 pm
This Event is not open to the public.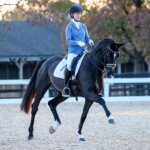 The Tucson Dressage Club is a non-profit educational organization with the mission of promoting dressage in southeastern Arizona. We accomplish this through educational seminars and clinics for our members, the equestrian community, and the general public. We also sponsor a series of schooling shows and five USA Equestrian (USEF) / United States Dressage Federation (USDF) recognized shows each year.    Formed in 1975, the Tucson Dressage Club is today 197 dressage enthusiasts who have joined together to learn more about dressage, share experiences, and support and encourage each other.   We strive to promote interest in and understanding of the principles and ideas of dressage through our many programs and shows.
Face masks are required on any Pima County property, including the Fairgrounds.  If you are medically exempt and need accommodations, please email office@PimaCountyFair.com prior to your arrival so that we may assist you.  Please allow 2 business days for a response.
Click here for more information: Tucson Dressage Know Before you Go
Per 2020-96 Pima County Resolution face coverings and social distancing are required at all events happening at the Pima County Fair Grounds.  Failure to abide by the rules set forth in the resolution during events at Pima County Fairgrounds, can and will result in a civil fine along with being ejected from the property without refund, regardless if a spectator, participant, competitor, volunteer etc.
Some people are more likely that others to become severely ill such as older adults or people with medical conditions.  Additionally, there may be others who need to take extra precautions because of certain other factors that put you at higher risk.  For those people who are in these risk categories, the CDC recommends limiting contact with others, including avoiding large gatherings.  Click here for more information provided by the Centers for Disease Control:COVID19-What-You-Can-Do-High-Risk
Events are subject to immediate cancelation if any order or advisory by a federal, state, or local official would preclude the ability to conduct activities on Pima County property, such as orders and advisories intended to reduce the spread of the COVID-19 virus.